With 20 billion pairs of shoes produced annually, and according to the U.S. Department of the Interior, at least 300 million pairs of shoes thrown away each year- the footwear industry is one of the most wasteful. These shoes end up in landfills, where they can take 30 to 40 years to decompose. Most shoes are made from unsustainable and nonbiodegradable materials, proving the waste to be harmful to the furthest extent. Additionally, the creation process of these shoes "use virgin plastic, rubber, and petroleum, producing alarming amounts of carbon dioxide" (BUSINESS INSIDER.COM).
The problem with carbon dioxide is that it is a greenhouse gas. This means, the buildup of CO2 in the air creates a cover in the atmosphere, which traps the heat from the sunlight. This causes immediate fluctuating temperatures, and overall, a steady rise. The unnatural temperature increase plays a big role in global warming and rising sea temperatures consequently.
In order to prevent these negative results, it is important to be aware about how sustainable your preferred shoe brands are. That said, here is a compiled list of recommended, sustainable footwear brands.
This startup was founded in 2014, with a different mindset in comparison to other already-popular brands. While other brands strive to change their unsustainable materials, Nothing New's core idea is sustainability.
As the name explains, Nothing New is made from only recycled materials. No virgin materials are used, in any part of the shoe. All the way from the recycled plastic laces to the recycled rubber/cork soles.
Additionally, Nothing New offers $20 discounts on new pairs to those who send back their used sneakers. Depending on the condition of the sneakers, Nothing New will clean and donate them or break them down and put the materials back into its recycled supply chain (BUSINESS INSIDER.COM).
Converse is one of the most timeless shoe brands in the world, and they are still able to keep up with modern demands. They have created a new line of shoes, made from recycled materials. The canvas upper is made from recycled water bottles, polyester and other waste scraps. They renew denim and jeans, and reuse cotton
In just about 4 years, Allbirds is valued at about $77.5 million. Their footwear is unmatched in reliability and comfort. The standard sneaker emits 12.5 kg CO2e, while their average shoe emits 7.6 kg CO2e. The goal is to have no carbon footprint, which the team is working toward.
The shoes are made from merino wool, eucalyptus trees, sugar cane, castor bean oil and recycled plastic. The shoes are even packaged in 90% post consumer recycled cardboard with many uses.
Visit Allbirds Sustainability page.
Veja is a French brand known for ethical production of sneakers. Materials such as rubber and cotton are used sparingly, sourced from farmers. They also just released a new sneaker called B-mesh, which is made from recycled plastic water bottles- all the materials coming together to create a breathable and waterproof shoe.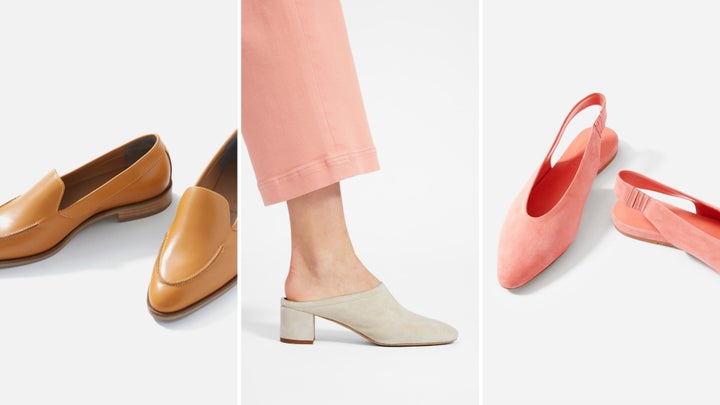 Everlane is an AMerican clothing retailer, with ethical factories for their material production. The clothing primarily come from factories located in Italy, and they specialize in countless different styles. The factory recycles 98% of its water, uses renewable energy produced onsite, and repurpose byproducts to create affordable homes.
Visit Everlane's Sustainability page
Shoe production and disposal have a large environmental footprint, and the constant purchase of these materials have tremendous environmental defects. Do your research before purchasing shoes and always think sustainably.