With the sustainability trend growing on the red carpet, it's no surprise that this year's Met Gala was full of eco-conscious looks. The 2021 theme was "In America: A Lexicon of Fashion," so we saw a wide range of looks- varying from political statements to old-hollywood. This year was also the first to offer an entirely plant-based menu, so along with fashion sustainability, we saw it with the food too! From Alexandra Ocasio-Cortez to Billie Eilish, here's a list of the most sustainable and fashionable Met Gala outfits.
Alexandra Ocasio-Cortez: Brother Vellies
AOC wore her own statement piece, a "Tax the Rich" dress. Brother Vellies is known for creating homemade dresses (sustainably handcrafted) pieces from artists internationally. The brand began in Brooklyn, founded by Aurora James. Ocasio-Cortez claimed she was proud to work with James,"sustainably focused, black immigrant woman." Additionally, the dress was borrowed from a Fashion Library, making it more sustainable than purchasing and never rewearing. By promoting clothing libraries, you prolong the service life of garments, therefore reducing the demand for new clothing and slowing down the fashion cycle.
Billie Eilish: Oscar de la Renta
Eilish's Grace Kelly inspired gown was created by the already-sustainable Oscar de la Renta. . She only agreed to walk the red carpet in the show-stopping dress if the brand agreed to stop using fur in future collections; and they did. So, Eilish convinced Oscar de la Renta to ditch fur.
Adam Mosseri and Monica Mosseri: Bode and Kamperett
Head of Instagram Adam Mosseri wore a geometric suit repurposed from vintage fabrics by Bode, while his wife wore a Kamperett gown made from dead-stock materials.
Nia Dennis: Adidas by Stella McCartney
Gymnast Nia Dennis walked the Met Gala 2021 red carpet in a bright blue bodysuit and an all-vegan Adidas by Stella McCartney netted wrap and Earthlight sneakers. The shoes are made of Parley Ocean Plastic, a brand which recycles plastic waste found in the ocean.
Ella Emhoff: Adidas by Stella McCartney
Rising fashion icon, Ella Emhoff stunned in red. Similar to Nia Dennis, she wore a beautiful red diamond bodysuit and Earthlight trainers from Adidas by Stella McCartney.
Jennifer Lopez: Ralph Lauren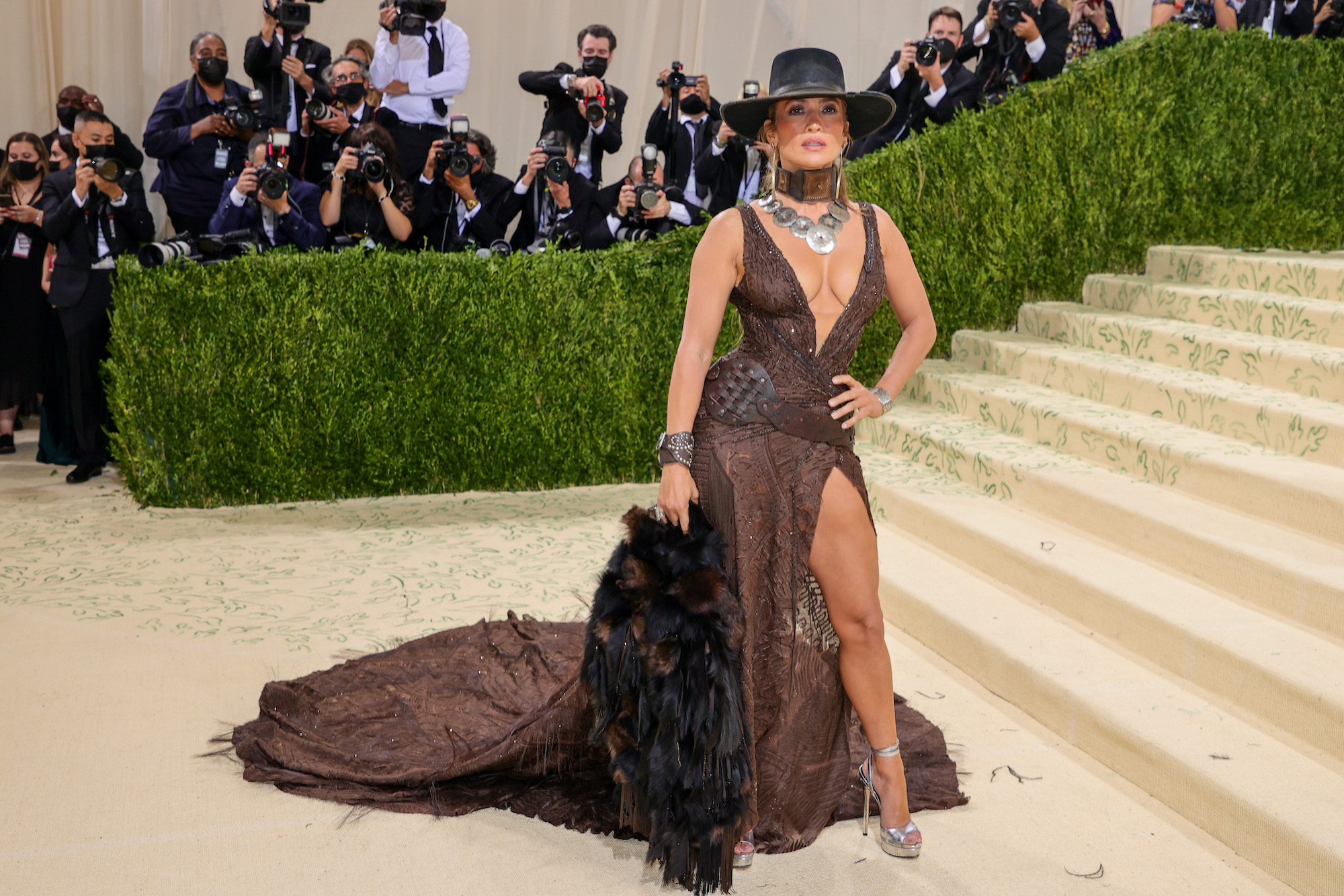 JLo proved, once again, there's no place or reason for real fur on the red carpet (or anywhere)! She wore a faux fur bolero jacket along with rodeo inspired accessories.
Tessa Thompson: Iris Van Herpen and Rombaut 
Actress and producer Tessa Thompson wore a pair of vegan cowboy boots to the red carpet by Rombaut, which uses various vegan and upcycled materials such as cactus leather, apple leather and felt made of recycled polyester.
Check out more links on this year's Met Gala!
Met Gala Red Carpet Sustainable Looks
Oscar de la Renta Finally Ditched Fur. We Can Thank Billie Eilish