Over the past few years, the trend of becoming more environmentally-conscious has grown. Advocation for more sustainable lifestyles is regularly seen and is always regarded positively. Because of this, the number of celebrities in this field has also begun to rise. Another word for celebrities is "influencers," because these individuals have the power to influence those around them. Whether you follow them or not, they are successful, therefore have a responsibility to encourage the right practices. The more successful you are, it is rational to gather that your actions will impact your following and you should essentially just do the right thing.
While this is a given, some celebrities have faced backlash for supporting unenvironmental and nonhumanitarian brands. On the contrary, there are a handful who have truly devoted their platforms to the cause and spent significant time researching and advocating for ecological practices. Here is MY list of the top celebrity activists for climate change.
Leonardo Dicaprio
If you follow him on social media, you are most likely aware of his activism. In addition to personally funding over 200 environmental/ animal rights programs, Dicaprio founded the Leonardo DiCaprio Foundation in 1998, with the goal of "support[ing] projects around the world that build climate resiliency, protect vulnerable wildlife, and restore balance to threatened ecosystems and communities." Since then he has become the United Nations messenger of peace for climate change in the 2014 Climate Summit- which was aimed at catalyzing and galvanizing climate action towards a global climate agreement in 2015. He serves on multiple environmental boards such as Natural Resources Defense Council, Global Green USA, World Wildlife Fund and the International Fund for Animal Welfare.
Following his win for Best-Actor at the 2016 Oscars, his speech surrounded the reality of climate change and the action orientation it needed:
"And lastly, I just want to say this: Making 'The Revenant' was about man's relationship to the natural world. A world that we collectively felt in 2015 as the hottest year in recorded history. Our production needed to move to the southern tip of this planet just to be able to find snow. Climate change is real, it is happening right now. It is the most urgent threat facing our entire species, and we need to work collectively together and stop procrastinating. We need to support leaders around the world who do not speak for the big polluters, but who speak for all of humanity, for the indigenous people of the world, for the billions and billions of underprivileged people out there who would be most affected by this. For our children's children, and for those people out there whose voices have been drowned out by the politics of greed. I thank you all for this amazing award tonight. Let us not take this planet for granted. I do not take tonight for granted. Thank you so very much" (Leonardo Dicaprio, Oscar Speech 2016).
Mark Ruffalo
In 2011, Ruffalo's farm was compromised due to the threat of fracking for natural gas nearby. After nearly being personally affected, Ruffalo learned about the water contamination that happens as a result of these industrial processes; this turned him toward projects such as producing the film Dark Waters, anti-fracking rallies, protests pipelines, co-founding The Solutions Project and campaigns for the Green New Deal.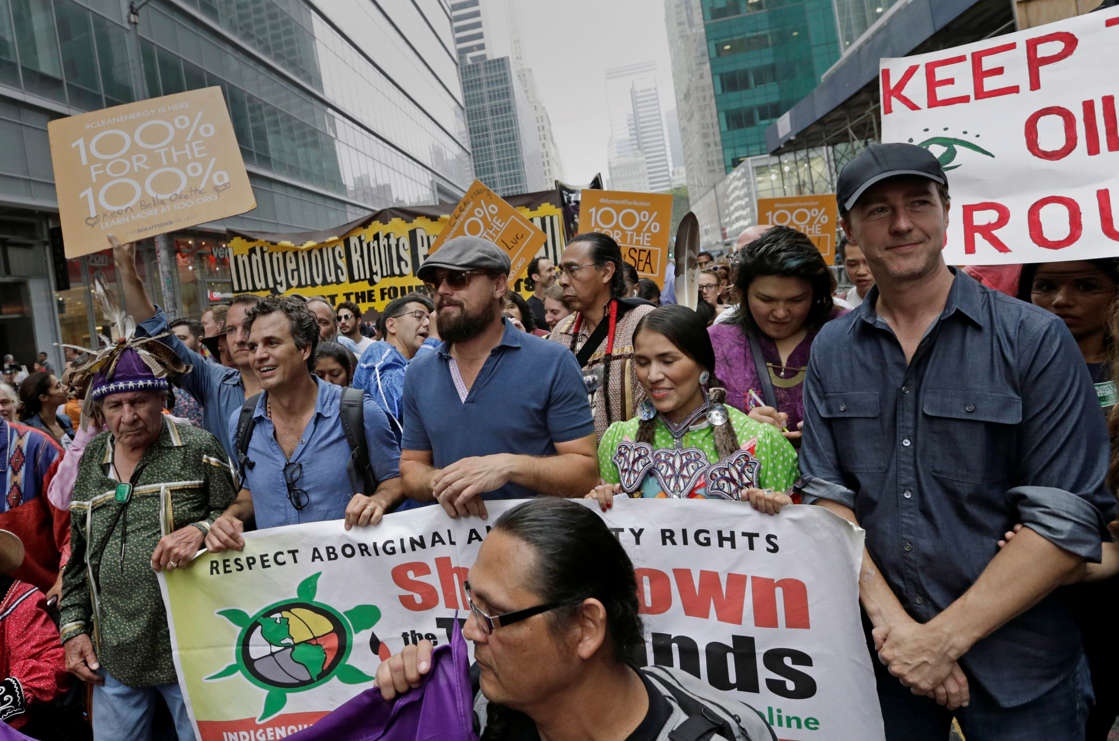 When asked by the Sierra Club magazine, "If you could morph into the Hulk in real life, and use your superhero superstrength to make structural systemic changes, where would you start?"- he responded:
"I think that first, we have to get money out of politics—we need finance reform so that our politicians aren't so beholden to people who finance their candidacies, which makes them beholden to whomever is giving them money. Corporations cannot be allowed to pollute the scientific debate with their bogus science and doubt. That, absolutely, time and time again, has corrupted policy; it's corrupted consumer choice, and it's clouded the waters. It's evil and it's caused us so much harm, whether we're talking about opioids or tobacco or PFAS or climate change. And in every one of these buckets—fossil fuels, fracking—you have corporations publishing b******* science to muddy the debate, and to slow down any kind of regulation" (Mark Ruffalo, the Sierra Club Interview). 
To view more, read Mark Ruffalo, Real-Life Eco-Hulk?
Cate Blanchett
One huge element of Blanchett's support for the environment is the implementation of sustainable energy. She worked to install a solar roof on Australia's Sydney Theater Company, and with the cost of 5.2 million dollars, she installed 1906 solar panels, consequently covering over 70% of the theater's energy usage. She also built the world's largest rainwater collection system on the same building. Additionally, she is an Ambassador for the Australian Conservation Foundation through which she visited politicians and encouraged Queenslanders to be aware of climate issues.
"Everyone will benefit if we protect the environment. There is a societal cost of increased pollution and that's what I'm passionate about as a mother. That's where it gets me in the gut," she said. "I can't look my children in the face if I'm not trying to do something in my small way and to urge other people" (Cate Blanchett).  
Bonnie Wright
Wright is an active spokesperson for environmental issues. According to Rainforest Alliance, "In 2017 Wright boarded the Greenpeace ship Arctic Sunrise to trawl for micro-plastics and raise awareness around the issue. Since then, she has organized the first-ever Plastic Free Picnic with Greenpeace and started a sustainability meet-up group in Los Angeles called Waste Watch. Early this year she traveled to Guatemala to meet communities that have developed a regenerative forest economy in the Maya Biosphere Reserve in collaboration with the Rainforest Alliance." She is also currently working on a novel about environmental practices and how to implement them into your daily life.
Gisele Bündchen
Through her ecologically-produced flip-flop line, she raises funds that go toward Amazon Rainforest protection. She also started the Clean Water Project, which reforests vegetated sections of the Amazon basin. Bündchen was appointed Goodwill Ambassador for the United Nations Environment Programme in 2009 and in 2011, Harvard's Center for Health and Global Environment awarded her a Global Environment Citizen.